MT20TM, MT18HSTM, MII16TM
MiTek has been manufacturing dependable, quality connector plates for more than 50 years.
Request More Information
OVERVIEW
MT20TM, MT18HSTM and MII-16TM
MiTek connector plates offer the optimal balance between cost, connector strength, corrosion protection, size selection and availability. We achieve this optimal balance while consistently maintaining the superb product quality that MiTek is renowned for in the truss industry.
Our truss plate products conform to all required standards (including the latest editions of the CSA-O86, CSA S347 and TPIC material standards). Furthermore our truss plates are registered with the Canadian Construction Materials Centre (CCMC).
Our connector plates are manufactured using steel conforming to the indicated ASTM standards:
MT-20TM : ASTM A924/A 924M Grade 40, Structural Steel.
MT-18HSTM : ASTM A653/A653M Grade 60, Structural Steel.
Mii-16TM : ASTM A924/A 924M, Grade 40, Structural Steel.
Our steel plates are hot-dipped galvanized and rated for a G90 coating designation.  MiTek also offers triple-zinc coated plates (TZ) and Stainless Steel Plates (SS) for enhanced protection against corrosion. Strength properties of our truss plate products can be found in the current evaluation reports available through CCMC.
Search for CCMC Code?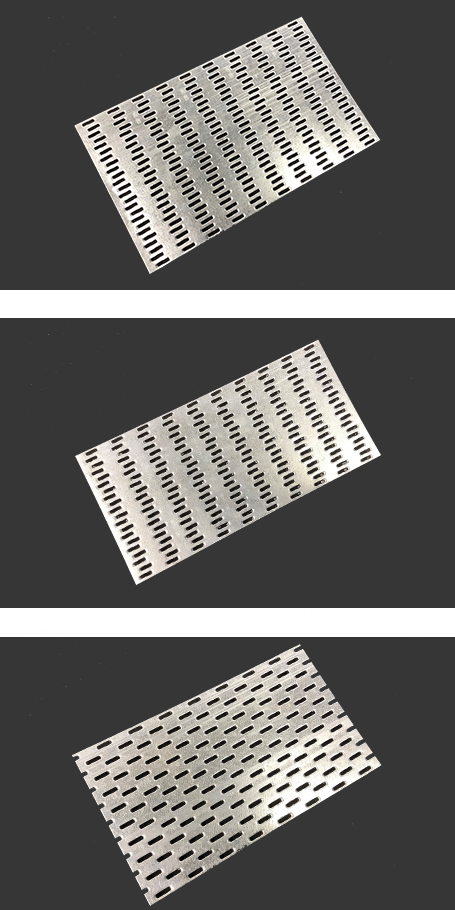 OVERVIEW
BANDED PACK PACKAGING
Banded pack pallets nest and pair plates in groups of 20. As a result, the total piece count per pallet is increased, which in turn reduces physical storage requirements. The complete elimination of cardboard minimizes packaging waste and the banded plates improve productivity by reducing setup and pick times.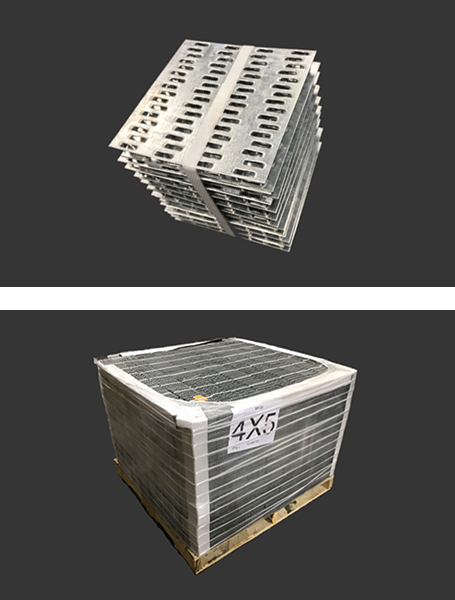 OVERVIEW
BOXED PACKAGING
Boxed product is a great choice for customers who want mobile inventory and the ability to order exactly the quantities needed. The smaller box sizes fit under work tables or on space saver racks. Boxed product can be ordered by the box itself, or in full pallet counts (30-36.).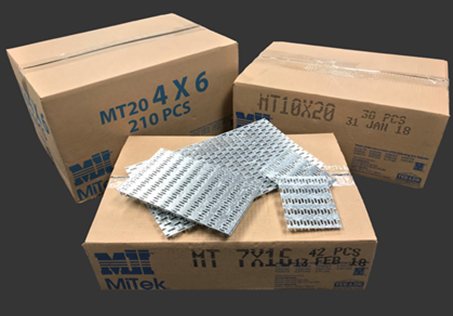 OVERVIEW
BULK PACKAGING
Bulk packaging is a terrific option for high-use, small plates. Available in 1″ – 3″ wide plates, up to 4″ long, these oversized bins centralize storage while reducing cardboard waste.