Features
STRUT RUNNER
POSI-JOIST PRESS
A hydraulic system that delivers 18 tonnes of force at high pressure with a lower alternate setting of your choice for faster operation.
The electronic "teach" system programs the press to automatically repeat the pressing sequence.
The pressing platform is 630mm wide, 15m long and 830mm high.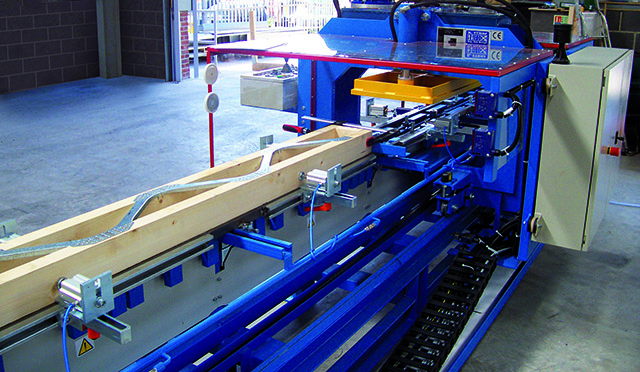 Specifications
TABLE SIZE
630mm wide
15m long
830mm high
PRESSURE AND CAPACITY
150 bars and 15 tonnes with 7500W 3 phase motor, 40 amp supply
CLAMPING
32 No Pneumatic cylinder with Quick Release : 3 sizes of stop with quick change between sizes.
HEIGHT ADJUSTEMENT
Motorised lead screw with 2 buttons operation and LED display
WEB LOCATION
Centre Unistrut channel with locator
AUTOMATION
Siemans PLC with teach facility.
Ability to program left and right.
Speed will be 0.8 – 4.0m/sec.
SAFETY
CE Marked.
Plexiglass guard with secondary optical guard to activate 'E' Stop circuit.
MACHINERY SUPPORT & RESOURCES
MiTek offers consulting, testing, documentation, design assistance and prompt customer service. Visit our Support, Training and Knowledge Base center for more information.
MACHINERY EQUIPMENT
View more of the most complete, reliable, and productive component manufacturing equipment in the industry.