RedJack 3.0 Adjustable Support Columns are designed and tested to meet or exceed the CAN/CGSB-7.2-94 Adjustable Steel Columns standard.
Series: RJ30x90, RJ30x96, RJ30x102, RJ30x108, RJ30x114, RJ30x120 and RJ30x144
Materials:
RedJack 3.0 Tube (3″ x 3″) – 8 gauge
Finish:
RedJack 3.0 Tube – Power Coated Red Paint
Installation:
Ensure column is installed in a vertical and plumb position.
Column base shall be aligned and secured to a proper supporting slab.
Top plate shall cover the full width of the supported beam. Beam shall be centered on the top plate and continuous across the entire length of the plate.
Square tube may be cut down, ensure cut is smooth, square and level.
Turn threaded collar or threaded pipe to extend the column to the desired height.
Maximum 4″ adjustment. Secure the top plate to wood beam with four (4) 1/4″ x 2″ lag screws.
Load Table: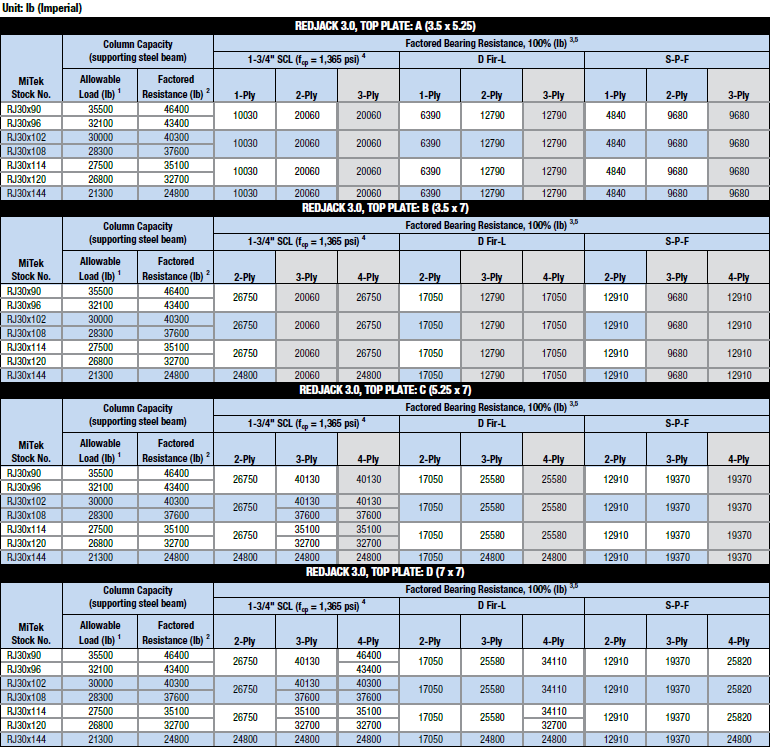 RJ30 Imperial Load Table Download